Linkedin is a powerful resource for job seekers to search for a Job on Linkedin and get a job in their desired field. Linkedin allows you to use your connections to get new positions or jobs and ask for recommendations. Moreover, you can follow the companies to get notified of their latest Linkedin posts. Let's discuss how we can land a new job or position through Linkedin.
Different Ways to Search for a Job on Linkedin
There are many ways that are discussed below:
1. Using Linkedin Search Job Option
First of all, you need to log in to your Linkedin account.
After that, click on the Jobs section.
Then a page will open where you can search for the job by title, skills that you have, and the company too.
There are some recommended jobs where you can apply too.
When you click on apply, then the link might take you to another website or company's website.
Sometimes, there is an option of Easy Apply. In that case, you have to submit your details at the Linkedin website only.
Keep your Resume and Cover letter ready before applying.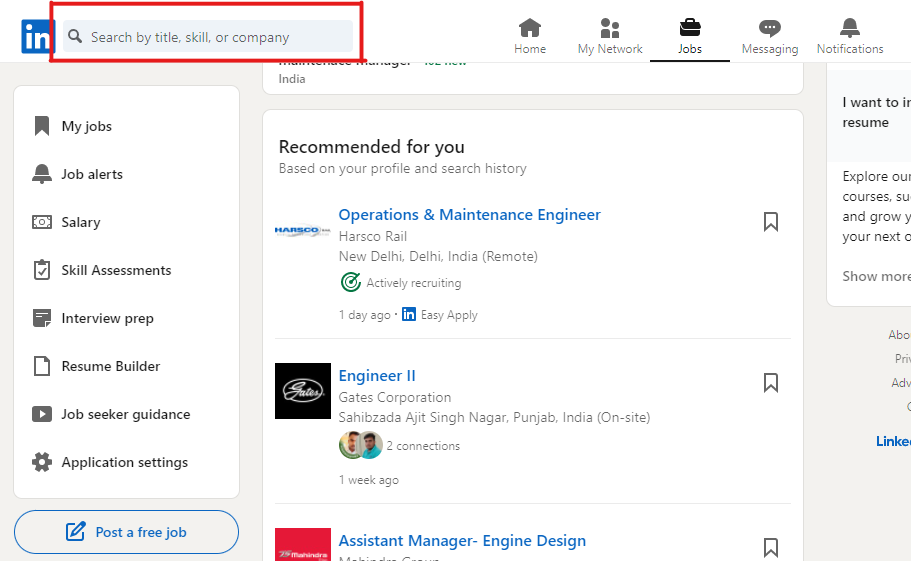 2. Following Companies
Following a company,'s page can help you land a job in your dream company. Let us understand it by an example.
Suppose As a Mechanical Engineer, your dream job is to work for Maruti Suzuki. By following the page of Maruti Suzuki on Linkedin, you will get updates on what is going on, what is their vision, their target, events, and many more things. If you are updated about the company, then it is going to help you in the interview round where you can tell how much you are interested in that company.
Moreover, if they post the job on their page or group, you can directly apply there so that you do not miss any chance to land the job in your dream company.
3. Keep your profile Updated
While making the Linkedin profile, always try to keep updated your profile. Sometimes, an employee of the company is looking for a suitable candidate for the position. If your profile is updated, you might get noticed. I to get the job because of it. An employee of a company approached me and then there was a telephone interview and then a Personal Interview. I got selected after clearing the interview. So, keeping your profile updated helps you in getting the job.
4. Search User's Profile
After updating your profile, you can search the recruiters by typing "hiring" plus "your role". Many managers and recruiters advertise the job in their headlines or profile sections. Suppose, you are a mechanical engineer and looking for a Manager position in maintenance. Then, you can simply type " Hiring Maintenance Manager" in the search box. You will get results based on this and can apply.
5. Build your connections
Building connections on Linkedin will definitely going to help you in getting the job. Build as many connections as you can so that you will be in the 1st degree, 2nd degree, or 3rd-degree connection in the recruiter's eyes. The more connections you have, the more are the more chances you will get noticed and hired.
You can directly approach your connections for and job vacancy. If there is any vacancy, they will let you know. Sometimes company gives their employee a reward if they find a suitable candidate for the open position. In that case, it will be a win-win situation for both and both can benefit.
6. Follow up with Recruiters and Managers
Whenever you have given the interview but did not get hired. Then you need to stay in touch with the hiring manager. You might be a suitable candidate for them in the near future because if you have not succeeded in the interview the first time, you might get succeed in the second time or they might directly hire you for the suitable position.
7.  Get involved in LinkedIn Professional Groups
Linkedin Groups are very effective in terms of getting a job. You can join the groups based on your profile and the job you want. You will not only get regular updates regarding the jobs but also you will be updated with the latest trends in the industry. Linkedin groups will help you keep updated with the technology and process in the industry.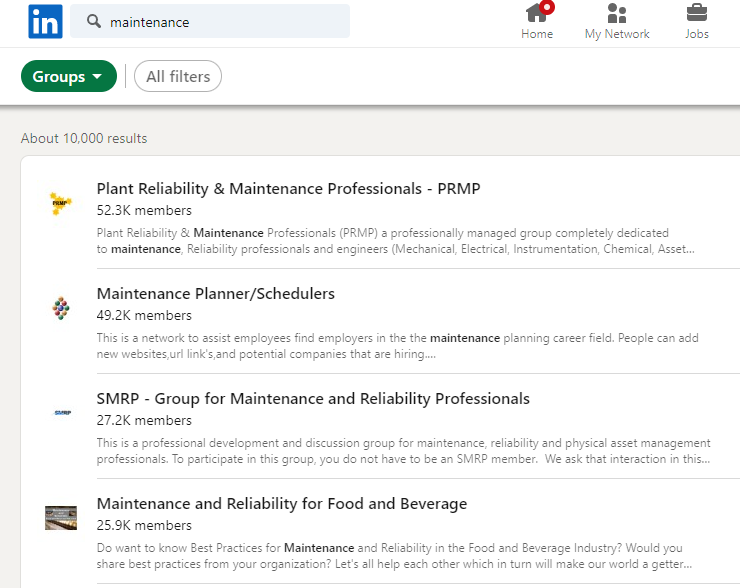 Frequently Asked Questions
Is LinkedIn good for job search?
Yes, Definitely, Linked in is a great source to get the job in the desired domain by showcasing your skills. Linkedin is becoming more and more popular nowadays to get a job.
How do you use LinkedIn for a job?
There are many ways to get a job on Linkedin.
1. Using Linkedin Search Job Option
2. Following Companies
3. Keep your profile Updated
4. Search User's Profile
5. Build your connections
6. Follow up with Recruiters and Managers
7.  Get involved in LinkedIn Professional Groups
Also Check Pressure Gauge Types, Working Principle
If you know more ways to get the Job on Linkedin, Kindly comment down below so that people can get benefits.